Unique  Woman Quartz Watch !!!

Stylish design:Hollow out musical note style dial, unique elegant and stylish.
Display: Analog, quartz movement for accurate time keeping
Quality Guarantee:PU leather band, cost effective.
Comfortable to wear. Fit for most size of wrist.
Excellent  Valentine's Gift , good gifts for lovers.

Just click the "Add To Cart" Button Below! There's a very limited stock, and they will go soon!
Note: Due to High Demand Promotional Items May Take Up To 2-4 weeks for delivery. 
WE SUPPORT AN AMAZING CAUSE
We're thrilled to support Nanhi Pari Foundation is a Girl Child Right Organization which works for Education, Health & Nutrition for Girl Child.




SK FASHION'S 7-POINT HAPPINESS CHECKLIST
1. FREE Shipping Worldwide on special offers.
2. Fast, Sure & Safe delivery.
3. Safe Payments via PayPal® and 2Checkout®.
4.  30 Day Money Back Guarantee.
5. Real humans on our support help-desk ! 
6.Tracking number for every order.
7.We use encrypted SSL certificates for 100% security.
Quartz clock Facts
A quartz clock is a clock that uses an electronic oscillator that is regulated by a quartz crystal to keep time. This crystal oscillator creates a signal with very precise frequency, so that quartz clocks are at least an order of magnitude more accurate than good mechanical clocks. Generally, some form of digital logic counts the cycles of this signal and provides a numeric time display, usually in units of hours, minutes, and seconds. Since the 1970s, they have become the most widely used timekeeping technology.
First European quartz clock for consumers "Astrochron", Junghans, Schramberg, 1967 (German Clock Museum, Inv. 1995-603)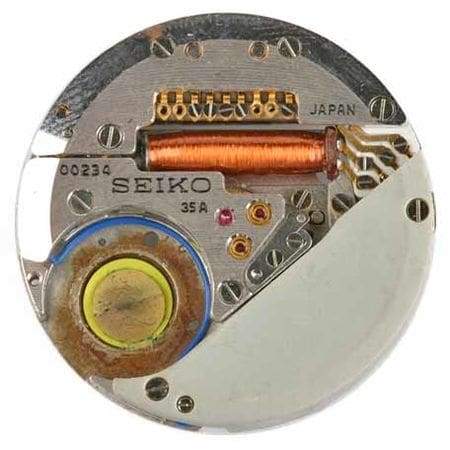 First quartz wristwatch movement, used in the Seiko Astron, Caliber 35A, Nr. 00234, Seiko, Japan, 1969 (German Clock Museum, Inv. 2010-006)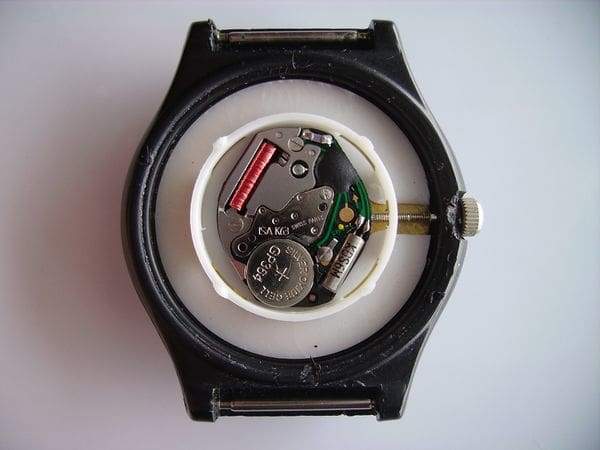 Basic quartz wristwatch movement. Bottom right quartz crystal oscillator, left button cell watch battery. Top right oscillator counter, top left the coil of the stepper motor that powers the watch hands.

Picture of a quartz crystal resonator, used as the timekeeping component in quartz watches and clocks, with the case removed. It is formed in the shape of a tuning fork. Most such quartz clock crystals vibrate at a frequency of 32,768 Hz.
 

The first Swiss quartz clock, which was made after WW II (left), on display at the International Museum of Horology in La Chaux-de-Fonds.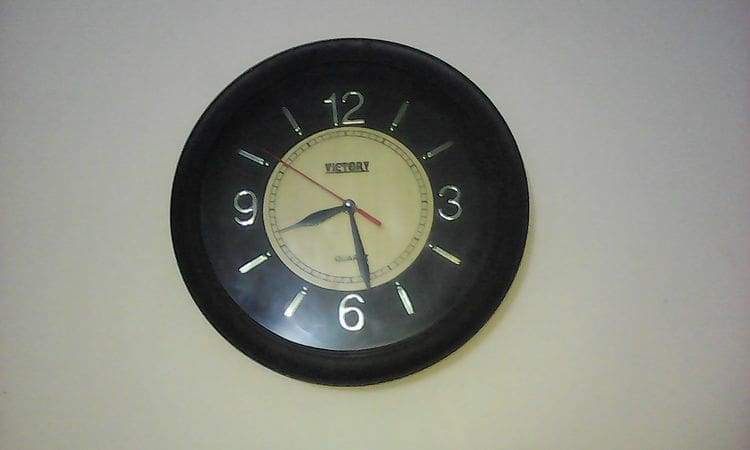 A quartz clock hung on a wall.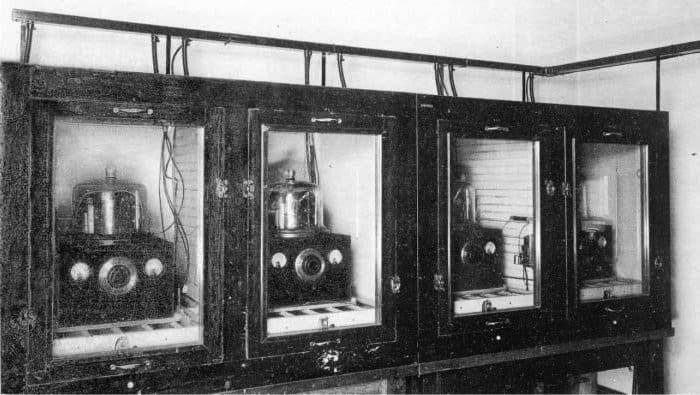 Four precision 100 kHz quartz oscillators at the US Bureau of Standards (now NIST ) that became the first quartz frequency standard for the United States in 1929. Kept in temperature-controlled ovens to prevent frequency drift due to thermal expansion or contraction of the large quartz resonators (mounted under the glass domes on top of the units) they achieved accuracy of 10−7, roughly 1 second error in 4 months.